Volunteer

Cleveland GiveCamp Weekend July 19-21, 2019
The dates for Cleveland GiveCamp 2019 are July 19-21 (the third weekend of July). Volunteer sign-up dates will be open from June 1 to June 28, 2019, while tickets last. Some categories of Cleveland GiveCamp tickets have "sold out" in the past, so if you plan on attending, please sign up early!
Friday
5:00 pm
Doors Open
5:00-5:30 pm
Registration
5:30-6:30 pm
Kick-off Meeting, Charities present their projects, and teams are introduced
6:30 pm and after
Dinner/Requirements Team meetings over dinner to collect more info on the project and begin work
10:00 pm – 12:00 am
Snacks
Saturday
8:00 am
Breakfast
All Day
Work day with team
10:30 am
Training: Effective Business Storytelling
–
Team and group photos at various times
–
Snacks will be provided
12:00 pm
Lunch
1:00-2:00 pm
Training: WordPress 101 for Nonprofits
6:00 pm
Dinner
10:00 pm
Snack
Sunday
8:00 am
Breakfast
All Day
Work day with the team
12:00 pm
Lunch
1:00-2:00 pm
Training: WordPress Intermediate for Nonprofits
Followed by optional WordPress Q&A session from 2:00-3:00 pm.
3:00-4:00 pm
Groups hand-off projects, final training, prep presentations
4:00-6:00 pm
Closing meeting – present projects
6:00pm-6:30 pm
Clean-up (This goes quickly – please stay and help)
If you are going to keep your vehicle in a lot overnight, you must park in the LeanDog lot. Check in will be in the middle lobby of Burke Lakefront Airport as normal.
In case of road closures…
In the past, there have been road closures some mornings that make getting to GiveCamp difficult. The easiest route has been to take North Marginal from East 55th as shown in the following map:
Cleveland GiveCamp uses Slack to communicate between teams and across disciplines during the event. We automatically add volunteers to the account each year prior to the event.
Be sure to check out the specialized Cleveland GiveCamp Slack channels #design, #wordpress, and #project-pm groups for specific requests. Try to keep the #announcements channel open for high priority, special announcements to everyone (like food is ready). Feel free to create new channels for your team.
The Cleveland Indians (@Indians) and Business Volunteers Unlimited (@BVUVolunteers) have partnered up again for the Indians Volunteer Challenge by offering 2 free game tickets to a single game to individuals who volunteer for at least 4 hours between April 1 and August 31, 2019.
Basic info can be found on BVU's website and GiveCamp organizers will be providing more info to volunteers during GiveCamp weekend.
---
Cleveland GiveCamp is a great opportunity to use technical and creative skills to help non-profit organizations reach their full potential. Nearly 200 software and database developers, coders, business analysts, graphic designers, marketing professionals, copy writers, video producers, photographers, social media experts and food service volunteers take part in the event on an annual basis, donating more than 5,000 hours throughout the weekend.
Cleveland GiveCamp is entirely volunteer-driven, even the eight member committee which works throughout the year to plan the event, raise sponsorship dollars, recruit volunteers and coordinate event details. Volunteers represent dozens of companies throughout northeast Ohio, are current students at area universities, and even attend some of the area high schools in the region.
GiveCamp helps volunteers grow as a professionals, introduces them to different people, and provides opportunities to be a mentor or be mentored. Please review the FAQ for more information.
Volunteers often take the camp part of GiveCamp seriously and pitch tents at the event so they can stay close to the action.
What else to expect for the weekend?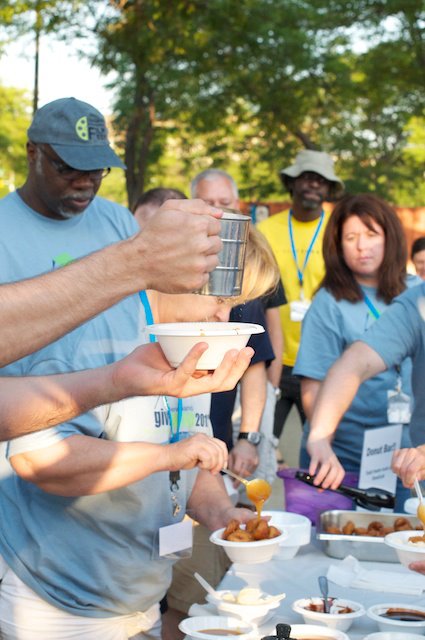 Project Managers get their non-profit assignments a few weeks before the event and start planning for the weekend. The advance planning helps ensure we know what technical, graphic and content resources are needed.
Project managers are one of the most important volunteer positions at GiveCamp, ensuring that the projects stay on task and meet predetermined objectives set by the nonprofit and their team during the course of the weekend.
Project managers must:
work with their assigned nonprofit three weeks before the event to help scope their project
manage the scope so it can be completed (designed, developed) over one weekend
be present at the entire event, Friday-Sunday, acting as main point of contact for project
attend all stand up meetings during the event to convey current progress and/or issues
manage nonprofit expectations – we have a small amount of time available
manage many tasks and direct a team, understanding that the team composition may change over the weekend
coordinate people you probably don't know
Doors open on Friday of the event at 5 pm, with a general kick-off at 5:30 pm. Early arrivals are encouraged to sign in, get familiar with the space, get their WiFi set up, network, maybe help move a few tables and string some extension cords. There is food and drink provided at the event.
We suggest wearing or bringing comfortable, weather-appropriate clothes. If you can easily bring the tools of your trade (laptop, video camera, sketchbook, etc.) bring those, too. During GiveCamp, volunteers are welcome to go home in the evenings or camp out all weekend long. If you're camping, deodorant and a toothbrush are highly (highly!) recommended. It never hurts to have a spare USB key or power strip, but don't feel you have to go out and buy things specifically for this weekend.
During the weekend, volunteers complete their project and frequently help trouble-shoot issues on other projects. Then on Sunday afternoon everyone presents and hands-off their project at the closing ceremony. All meals are offered at the event, paid for by sponsors.
We encourage all attendees to make accommodations for their kids and pets during the weekend instead of bringing them to the event. Please contact an organizer if you have any questions.